Reminiscing an exciting trip all the way up to Mount Pinatubo last November 2003 was more than an adventure. I had mixed feelings back then. Will I able to climb all the way up? or end hearing stories of those people I joined with, but failed to go up? Here's the story...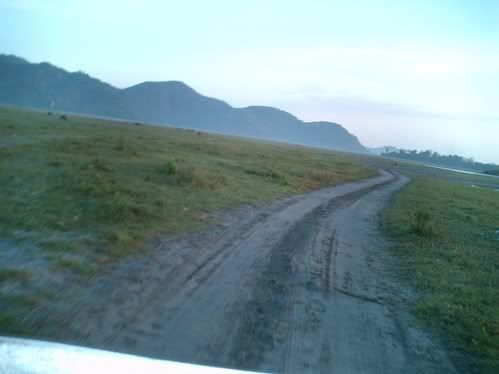 A couple friends of mine joined me to form Team Antipolo with fellow SDA's from different parts of Luzon in this enduring trip. The road all the way up isn't that great, as sand mixed with water creates friction and bruises our sensitive heels.
All made it up to the top with the exception of the husband of my friend's wife, and my friend herself. She had some heart illness, while her sister's husband has rheumatism. I almost got stripped of tent, clothing and food when I had to sacrifice an extra short, my favorite Lotus Notes T-shirt and my Coleman 7x7 dome tent for their use. Until now, both the shorts and the T-shirt never made it back to me.
A total of 298 people were able to made it up, with those 2 guys which remained and went back to the nearest military post which we stayed that night before the climb. It was already dark when I arrived at the top. Some of our fast runners made it as early as 2:00 P.M.
Using my extra tent, a Coleman stove, a burner and some easy cooking meal I shared it with a few close friends as we had fun at the top (near the crater). I also treated myself for skin injuries, rashes for the reason that I brought my first-aid kit in the first place. Some of those who joined which I'm not familiar with also asked for first-aid treatment. They got help of course!
While having fun, after meals someone noticed earring human sounds. We did search and found out that a friend of mine who's resting in one of the tents is suffering hypothermia. My close friends came to the aid, somebody brought his thermal insulation equipment (the one's you put into the car's dashboard & windows when you park, so that the heat generated by the sun is deflected back) and I bought myself. I embraced him, so that I could transfer whatever warmth there is in my body. After that, I myself got weak but not shivering. It indeed was cold, much more outside. I'm the only one walking without shoes, sandals or slippers. Its too complicated to wear anything for my feet at those moments. I got bruises, cuts all over my feet for the reason that I only wore sandals without socks to protect my skin. Its a good thing that they heal up fast. The only thing that doesn't heal well in me are those pimple marks I got in pre-adolescent stage. They're still in my face still on a permanent basis.
After everything that night, I still got a good night's sleep and an early morning rise. We just went there, took shots in groups, personal ones then had to go head back...
The crater now is in full glorious view that morning. It's about time to go home too! All the way up, I endured a death march myself that probably my mom & dad's fathers experienced too. All the way down, I have to walk up to the ranger's station then ride a 4x4 (equals 16) all terrain vehicle.
At the military camp, those two guys which were not able to come had their stories of their own. I had too, including experiencing LBM all the way up. I think I lost 10-20 pounds. All the way down, there's people Kodak'an ng Kodak'an. I met all the way up an elderly Japanese woman coming down riding a horse. The terrain is terribly difficult. I little girl accidentaly stepped at a stone and slipped down, getting an open wound. I hope she still remembers me: as one of the guys who helped her with my favorite white hanky covering her wound and a fellow Masterguide securing it with an appropriate knot.
The best part of this trip began when all Team Antipolo parked at a local restaurant in San Fernando, Pampanga. The guys, including me as as much as our heart and our pocket's content. Still heading back to Antipolo, we ended a gracious meal that we had. I think I arrived home around 10:30 P.M.
I had other mountain-top stories to tell, but this is the first time I've posted my story about our journey to Mount Pinatubo in 3 years time. There's also this Windows XP desktop-like mountain that I've went in Batangas twice but that would be posted on a separate blogg. Keep in touch with my postings...